"Are you the Media Player Owner?" or, in other words, who has ownership of this space?

How do we relate to near infinite freedom to create ourselves and the space we are in, within the community?

In a time where many of us are deprived of human contact and control over our environment, "Are you the Media Player Owner?" proposes an open gathering of people to come together in VR into a temporary autonomous zone where anyone present can terraform by adding and deleting elements in the environment. Users can modify their avatar to one's liking and experiment with scuba-diving interdimensionality through VR.

Issues of autonomy, sense of community, mutual care all come to life as participants navigate decision making and collectivity giving the tone of the experience.

Will it be full of freedom and catharsis? Will there be issues of control? How does the desire of ownership, of making a mark, express itself in such a situation? "Are you the Media Player Owner?"
INSTRUCTIONS

Step 1:

Download AltspaceVR here for 2D mode (desktop)

Or if you have any of these headsets, download directly at the headset designate store: Oculus Rift CV1, HTC Vive, Oculus Quest, Windows Mixed Reality

Step 2:

Log into the AltspaceVR app, on 2D mode or within your headset. Customise your avatar and take the tutorial. Taking the tutorial is extremely important.

Step 3:

Log into your AltspaceVR on your regular web browser and paste this event address.

Step 4:

Click on INTERESTED. Once you return to your headset or to your 2D AltspaceVR app on your computer, the event will show under the Events tab within your player menu. The player menu is accessible through the green triangle on your left when within the app, whether you are on 2D or in VR, through your headset.

The event was additionally streamed on Twitch.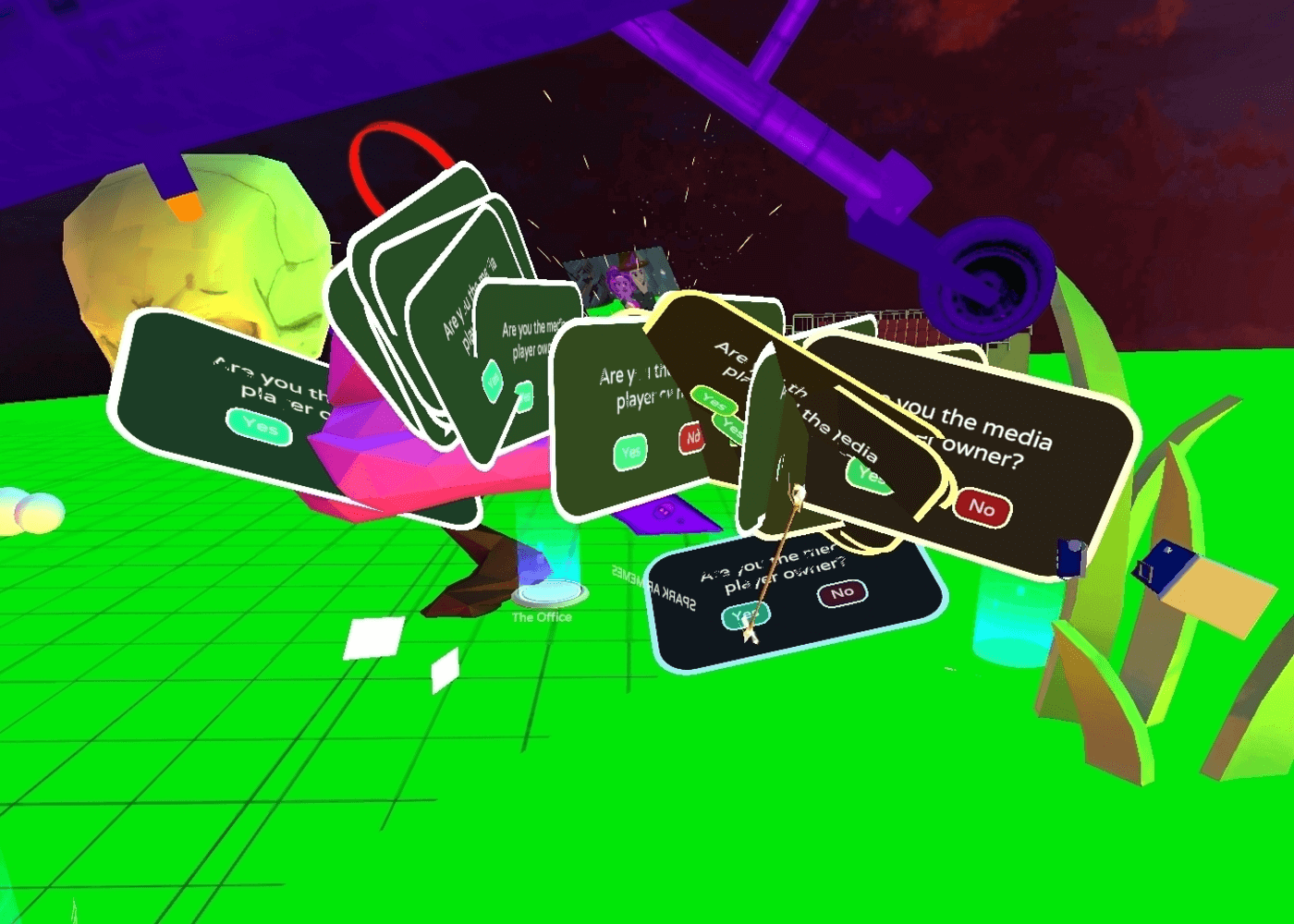 Artist:
CIBELLE CAVALLI BASTOS
Produced by VOLKSBÜHNE BERLIN in collaboration with the NEMETSCHEK FOUNDATION for the Series 'Armen Avanessian and Enemies' at the ROTER SALON.